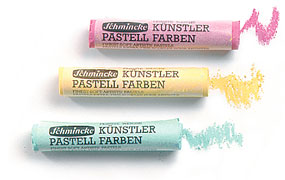 400 brilliant and rich colours finest extra-soft artists´pastels
The Art Shop.com.au price only $5.75 incl GST
Unmatched in their softness and consistency, Schmincke soft pastels are created using the finest pigments and a minimum of binders. The softness of the pastels permits a beautiful dense application and great color intensity.
Sticks are rich and buttery in texture. The pigments slide right off the stick without crumbling or breaking. Schmincke Pastels are prepared by hand and by traditional machines. Also labelled by hand to prevent breakage.
Schmincke's generous size full stick measures 2-5/8" long × 7/16" in diameter (67 mm × 11 mm).
Schmincke offers 55 pure colors, each of them available as a pure color (D), or in gradations with Black (B) and White (H, M, O):
B — Black gradation with the D colour.
D — Pure colour, no added black or white.
H — White gradation with the D colour.
M — Gradation with more white than H
O — Gradation with still more white than M
To view the Schmincke colour charts click the following link:
http://www.schmincke.com/data/content/uk/uk_2500.php?sorte=17